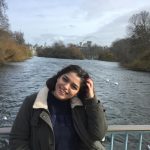 Melisa is an international student in Breda from Mexico, currently in her bachelor's degree in Environmental Science and specializing in ecological research. As Editor-in-Chief for DuurzaamStudent.nl, she is committed to raising awareness on the wonderous world of sustainability as a student and other environmental topics. With great pleasure, she ensures that the articles are (hopefully) good quality. In her free time, you can find her cycling through nature or enjoying nice latin parties in the city.
Luca is a board member of Studenten voor Morgen. One of the tasks for this volunteer position is to manage DuurzameStudent. With this project, she hopes to bring young people together and encourage them to share their vision of sustainability with the world. Because sharing knowledge, making our voices heard as young people and offering inspiration around sustainability is super important to encourage others to make their lives a bit more sustainable step by step! .
Bine is a board member of Studenten voor Morgen. During this board year her goal is to integrate sustainability into higher educational institutions. Duurzamestudent.nl can help because it is an easy way to collaborate with students, and to spread information and knowlegde!
Sarah studies English Language and Culture with a focus on literature. While she lives in Amsterdam, she dreams of a cottage in the woods where she can make her dream of having lots of animals come true. Even though she has almost no clue what to do after her studies, she is developing a great interest in everything to do with sustainability and the environment. Through writing for Duurzame Student, she hopes to learn even more about the topic and explore sides of the problem she had never considered before.
Tesse is currently pursuing her bachelor's degree in Liberal Arts & Sciences in Maastricht, where she is learning to look at subjects from different angles. During the first year she further developed her interest in sustainability and it is her plan to focus even more on this in the coming period. She likes the social as well as the physical aspects very much. In her spare time, Tesse is often involved in fashion, sports and travel, but she thinks that all of this could be a bit more sustainable. That's why she likes to write about these topics. With her writing and the knowledge she gains, she hopes to be able to inform people about the far-reaching effects of our behavior on the earth.

Sannah is currently on a gap year and will study communication and life sciences in Wageningen next year. She works as a content creator for Young Impact and is in the WWF youth class 2022. She also loves to travel, although she wants to do this in a sustainable way. She also enjoys surfing, swimming and sailing: protecting the oceans is very important to her. Sannah hopes to inspire other young people in the field of sustainability and she wants to show that a sustainable lifestyle can also be a lot of fun.

Daan is interested in Sustainability, Environmental and Business topics and is currently studying Business Administration at Avans University. He likes to work with other cultures as he finds it extremely interesting to learn new working methods. Having finished a collaborative Dutch/ Finnish minor in Sustainable Business Solutions, Daan has also found interest in cross cultural differences. While studying, he started working at kWh People as a Student Recruiter, learning everything about renewable energy, the energy industry and business life itself. This is a great learning school, before he will start his pre-masters Business Administration at Radboud University in 2024. He is a passionate golf-player (HCP +2.1), traveler and proud owner of two Labrador dogs!

Hi! My name is Fanny and I am one of the writers for @duurzamestudent.nl. I love to write and learn more about a sustainable living. During the week I work for the Hogeschoolutrecht in the Sustainability team.
I love to walk in nature, being creative, sport and eat delicious vegan food!
On @duurzaamdevries I share with you my Green lifestyle and I give you tips! 🌱✨
Tom is doing a Msc Hydrology at the VU in Amsterdam. He finished his Future Planet Studies bachelor at the UvA and is now on his way translating his sustainable knowledge to water-based solutions. In his spare time, he is a sailing instructor, a football player and big consumer of new information and good music. As an editor, he hopes to make you look at certain climate related topics differently and to also entertain you a little, since reading about serious stuff doesn't necessarily mean you need to read it with a serious face ;). The world asks for help, why not help her?
Charlotte is pursuing her bachelor's degree in Finance & Control in Nijmegen. She joined as an editor to interact with like-minded students, have a creative outlet and help the environment. She's interested in programming, circular economies and process management. In her spare time, she is programming, reading a book, playing a game or going on a walk! As an editor, she hopes to motivate students to help the environment in an accessible way. She believes people will do more for the environment if their intrinsic motivation is stimulated.
Jolanda studies Media Studies at the Rijksuniversiteit in Groningen. During her studies, she discovered her love for writing and storytelling. She loves the idea that her writing can be used for good, which is why she became a writer here. She loves being creative and also trying out new recipes.
Besides her study and work, she is writing her own fantasy book, which first draft should be done by the end of the year. Furthermore she likes to play videogames, going on walks, and spending time with her friends.
Valerie has a large passion for biodiversity conservation and environmental and social justice. Recently, she graduated cum laude from her masters in Environment and Resource Management at the VU. Currently, she is looking for a job, and on the side is working as the co-founder and writer of the conservation project: Equine Legacy project. Valerie is an avid traveller and lover of human stories. She firmly believes that travel can not only be done sustainably but can also benefit the world. She hopes to create more understanding for the importance of nature conservation, inspire people to dicover the world in a sustainable manner, and leave the earth better than it was. In line with this, she writes her own sustainable travel blog called Living Intrepid, where she shares advice on sustainable travel & writes down the stories of the people she meets along the way. See www.livingintrepid.com for more!
Sophie Valk is a board member of Studenten voor Morgen board of '2021-22'. She wants to inspire young people to continue to make their lives more sustainable and shares her own discoveries via Duurzame Student. She is curious about how you can live your life in the same way but without having a negative impact on the world and enjoys thinking about it with others.
Carmen is a master student Ecology and Evolution. Before this master, she studied the bachelor Future Planet Studies. During this bachelor she discovered a passion for sustainability. However, she often felt that the problems of climate change and pollution were too big to manage and that the world was practically doomed. By now, she has realized that there are also a lot of good things happening. With writing, she hopes to inspire others who might feel the same to start looking at the good things as well. Because we are not doomed and there are a lot of things that can still be done, but we need to do it together.