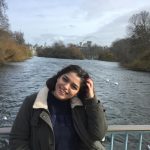 Melisa is an international student in Breda from Mexico, currently in her bachelor's degree in Environmental Science and specializing in ecological research. As Editor-in-Chief for DuurzaamStudent.nl, she is committed to raising awareness on the wonderous world of sustainability as a student and other environmental topics. With great pleasure, she ensures that the articles are (hopefully) good quality. In her free time, you can find her cycling through nature or enjoying nice latin parties in the city.
Sophie is a board member of Studenten voor Morgen. One of the tasks for this volunteer position is to manage DuurzameStudent. With this project, she hopes to bring young people together and encourage them to share their vision of sustainability with the world. Because sharing knowledge, making our voices heard as young people and offering inspiration around sustainability is super important to encourage others to make their lives a bit more sustainable step by step! .
Tesse is currently pursuing her bachelor's degree in Liberal Arts & Sciences in Maastricht, where she is learning to look at subjects from different angles. During the first year she further developed her interest in sustainability and it is her plan to focus even more on this in the coming period. She likes the social as well as the physical aspects very much. In her spare time, Tesse is often involved in fashion, sports and travel, but she thinks that all of this could be a bit more sustainable. That's why she likes to write about these topics. With her writing and the knowledge she gains, she hopes to be able to inform people about the far-reaching effects of our behavior on the earth.

Sannah is currently on a gap year and will study communication and life sciences in Wageningen next year. She works as a content creator for Young Impact and is in the WWF youth class 2022. She also loves to travel, although she wants to do this in a sustainable way. She also enjoys surfing, swimming and sailing: protecting the oceans is very important to her. Sannah hopes to inspire other young people in the field of sustainability and she wants to show that a sustainable lifestyle can also be a lot of fun.

Daan is interested in Sustainability, Environmental and Business topics and is currently studying Business Administration at Avans University. He likes to work with other cultures as he finds it extremely interesting to learn new working methods. Having finished a collaborative Dutch/ Finnish minor in Sustainable Business Solutions, Daan has also found interest in cross cultural differences. While studying, he started working at kWh People as a Student Recruiter, learning everything about renewable energy, the energy industry and business life itself. This is a great learning school, before he will start his pre-masters Business Administration at Radboud University in 2024. He is a passionate golf-player (HCP +2.1), traveler and proud owner of two Labrador dogs!

Madzy studeert Metropolitan Analysis, Design & Engineering in Amsterdam, duurzame stadsontwikkeling. Hierin richt Madzy zich op voedselsystemen. Een thema waar de stad, het platteland, en de natuur met elkaar verbonden zijn. Om haar studie direct in de praktijk toe te passen, helpt ze bij een permacultuur moestuin in de stad en experimenteert ze ook met moestuinieren bij haar ouders thuis. Ze komt graag in de natuur en kan uren in de keuken staan om vegan maaltijden te koken. Je kan haar ook regelmatig op de schaatsbaan of in de boulderhal vinden waar ze al haar energie kwijt kan. Met het schrijven voor DuurzameStudent hoopt Madzy ideeën en nieuwe inzichten over duurzaamheid te delen en anderen na te laten denken, om vervolgens duurzaam gedrag te stimuleren.

Charlotte is pursuing her bachelor's degree in Finance & Control in Nijmegen. She joined as an editor to interact with like-minded students, have a creative outlet and help the environment. She's interested in programming, circular economies and process management. In her spare time, she is programming, reading a book, playing a game or going on a walk! As an editor, she hopes to motivate students to help the environment in an accessible way. She believes people will do more for the environment if their intrinsic motivation is stimulated.